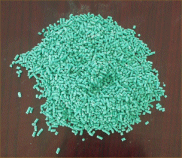 APPLICATION
It containing pellet formulations are the main system of delivery in agriculture and in private gardens.
MODE OF ACTION
Excess mucus production is the first sign of poisoning in both slugs and snails. This reaction depletes the slugs energy reserves and weakens the slug. Subsequently, cell membranes are ruptured, and mucus cells irreversibly destroyed after which death is inevitable. These effects occur at temperatures as low as 2. and slugs cannot recover by taking up ambient water.
It is known to be an effective molluscicide against slugs and snails of economic importance. However, its efficacy can be compromised when substandard baits are used in an inappropriate manner.
TOXICITY
It is used as a specific molluscicide to control slugs or snails. It does not harm beneficial organisms such as earthworms or slug eating carabid beetles. It is al also safe to be used in fishponds along with combination production systems such as rice/fish culture.

| | |
| --- | --- |
| Item | Specification |
| Appearance | apple green or blue |
| Metaldehyde | > 6% |
| 2mm grain content | > 95% |
| PH | 7~9 |
| Water content | < 9% |